Veeam® Backup & Replication™ helps business achieve comprehensive data protection for ALL workloads — cloud, virtual and physical. With a single console, achieve fast, flexible and reliable backup, recovery and replication of all applications and data, on-premises or in the cloud.
Simple, Reliable & Flexible
Some of our Veeam and Bamboozle protected Clients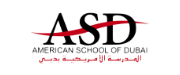 Features and Capabilities
Veeam® Backup & Replication™ delivers Intelligent Data Management for ALL your virtual, physical and cloud-based workloads. Through a single management console, you can manage fast, flexible and reliable backup, recovery and replication of all your applications and data to eliminate legacy backup solutions forever.
Backup
Veeam Backup & Replication provides fast and reliable backup for ALL workloads, giving you the ability to achieve shorter backup windows and reduce backup and storage costs.
Create application-consistent, image-level VM backups with advanced, application-aware processing
Lower RPOs and generate ultra-fast backups from storage snapshots for the world's leading storage providers
Simplify management of your backup storage, including object storage support, with Scale-out Backup Repository™
Improve scalability and operational efficiencies while managing enterprise environments with Veeam Plug-ins for SAP HANA and Oracle RMAN
Automatically verify the recoverability of your data with Veeam DataLabs SureBackup® and SureReplica
Manage virtual, physical and cloud-based backups from the Veeam Backup & Replication console with built-in management for Veeam Agent for Microsoft Windows and Linux
Leverage multiple tape support options including backing up and restoring entire volumes to NDMP v4 and writing to media pools in WORM format
Enable fast and secure cloud backup with Veeam Cloud Connect to Bamboozle and end-to-end encryption securing data during backup, both in-flight and at rest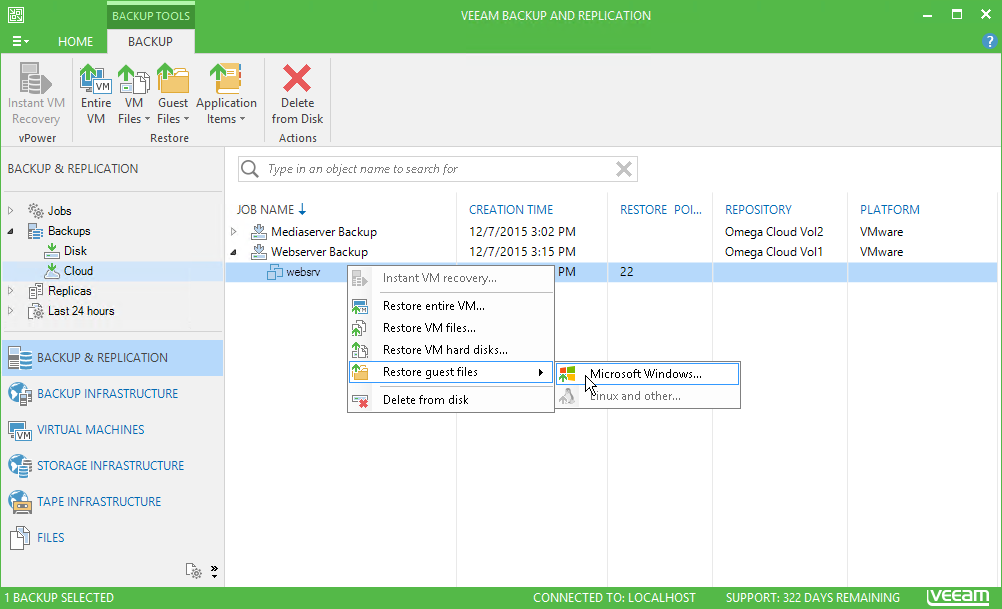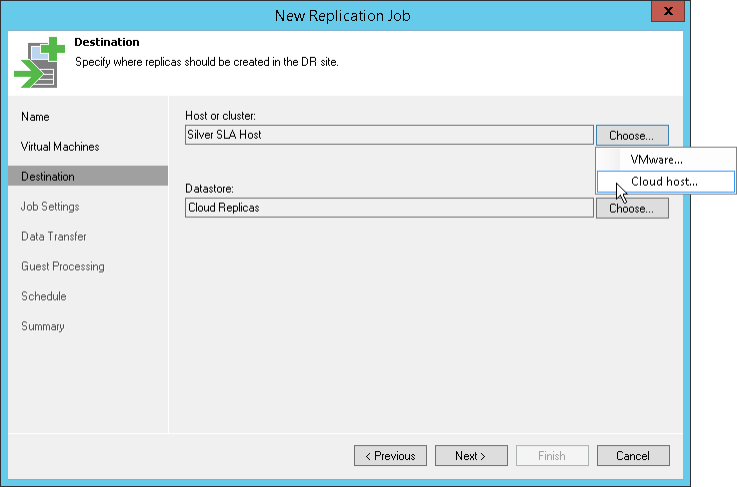 Recovery
Veeam Backup & Replication delivers lightning-fast and reliable restores for individual files, entire VMs and application items, ensuring that you have confidence in virtually every recovery scenario to give you the ability to attain low recovery time objectives (RTOs).
Restore entire VMs in minutes with Instant VM Recovery. Run any virtualized application on vSphere or Hyper-V directly from the latest backup, instead of making users wait while you provision storage, extract the backup and copy it to production. After restoration, you can use VMware Storage vMotion, Hyper-V Live Migration or Veeam's exclusive Quick Migration to move VMs back to production storage.
In addition, with Veeam, you can:
Recover individual files effortlessly with Instant File-level Recovery
Quickly and reliably restore various enterprise applications with Veeam Explorers, including Microsoft Exchange, Active Directory, SharePoint, SQL Server and Oracle
Restore backups with confidence by adding security, antivirus and intrusion prevention capabilities with Veeam DataLabs Secure RestoreNEW and additional GDPR and compliance protection with Veeam DataLabs Staged RestoreNEW
Create isolated virtual replicas of your environment with On-Demand Sandbox and On-Demand Sandbox for Storage Snapshots
Replication
Deliver advanced, imaged-based replication and streamlined disaster recovery (DR) — ensuring Availability of your mission-critical applications. Veeam gives you low RTOs for ALL applications.
Image-based VM replication on site for High Availability, or off site for DR
Extend to the cloud with fully integrated, fast and secure cloud-based DR (DRaaS) via Veeam Cloud Connect to Bamboozle Cloud Locations
Leverage built-in WAN acceleration to get replicas off site up to 50x faster
Simplify replica failover and failback with little to no business interruption
Remove the impact on your production environment by using backups as a source for replication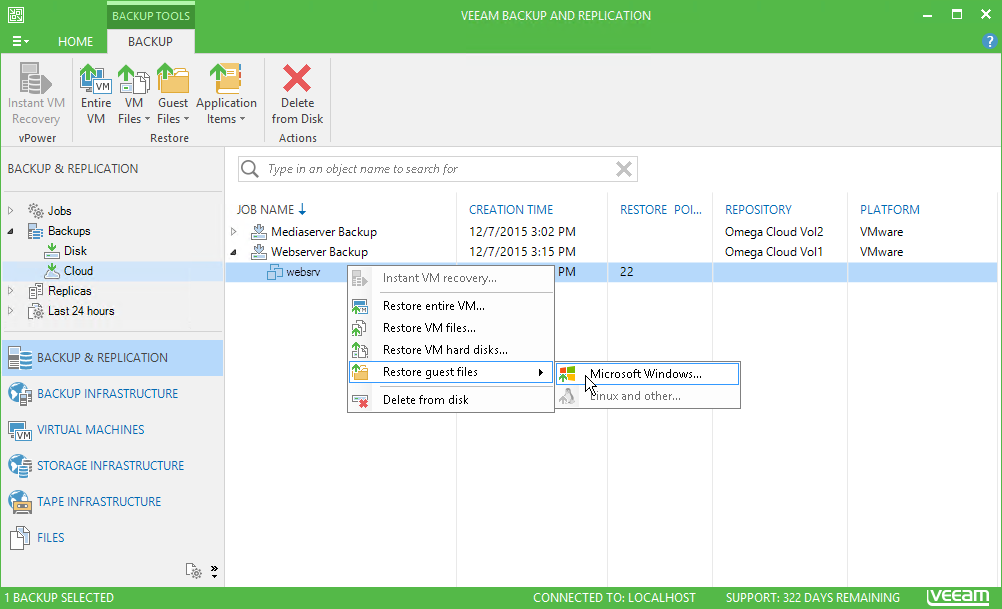 Start backing up today with Veeam Backup & Replication
Get started right away with Veeam Backup & Replication. Configure your Virtual, Physical and Workstation needs and launch the first backup job instantly. Annual plans offer 2 months free of charge.
Standard Edition
Starting from
Basic support and maintenance
Backup
Recovery
Replication
Centralized Management of Veeam Agents
Veeam DataLabs – Secure Restore
Enterprise Edition
Starting from
Basic support and maintenance
Backup
Recovery
Replication
Centralized Management of Veeam Agents
Veeam DataLabs – Secure Restore
Scale-out Backup Repository
Veeam DataLabs – Sandbox, Verification & Staged Restore
Veeam Explorers for Microsoft and Oracle
Enterprise Plus Edition
Starting from
Basic support and maintenance
Backup
Recovery
Replication
Centralized Management of Veeam Agents
Veeam DataLabs – Secure Restore
Scale-out Backup Repository
Veeam DataLabs – Sandbox, Verification & Staged Restore
Veeam Explorers for Microsoft and Oracle
Veeam Plug-ins for Oracle and SAP HANA
Backup from Storage Snapshots
Built-in WAN Acceleration
RESTful API for Task Automation